There is nothing to display at this time
No Computers, Printers, Photocopiers or Internet at Barton Branch
Barton Branch opens at 1:00pm today, but there is no computer, printer, photocopier or internet access. We're working to fix it and will post updates on hpl.ca. Thank you for your patience.
Publish Date:
Thursday, September 23, 2021 - 11:45am
D. Morgan Firestone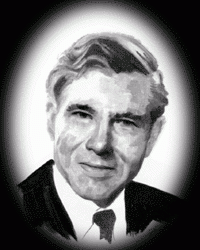 Morgan Firestone (1930-2009)
Inducted: 1996
Morgan Firestone began his career as a salesman for Firestone in Minneapolis, Minnesota. He progressed in the company to management positions in Sarasota, Florida and Akron, Ohio before becoming President of Firestone Tire in Hamilton in 1966. In 1970, he started up the Firan Corporation, of which he is the Chief Executive Officer.
Morgan Firestone is well known in the Hamilton area for his community service, in particular in the health care area. He founded the St. Joseph's Hospital Foundation in 1970 and continues to be its Honorary President. His generosity and leadership made possible the establishment of the Firestone Chest and Allergy Unit at St. Joseph's Hospital in 1978 which now serves a million people a year and performs valuable research.
He has been actively involved with McMaster University on its Board of Governors, as Chairman of the Finance Committee and Chairman of the Business Advisory Group for the Faculty of Health Science. One of his well-known endeavours has been the fundraising dinners he has organized with internationally known celebrities: Mario Cuomo (1991), Margaret Thatcher (1992), George Bush (1993), and Shimon Peres (1996).
Morgan Firestone is currently honorary patron on the Sesquicentennial Celebrations. The list of charities to which Morgan Firestone has donated to and continues to donate to is long, diverse and impressive: CAVEAT, Hamilton AIDS network, St Joseph's Health Care Foundation, Firestone Chest and Allergy Unit, Sister Servants of Mary Immaculate, mural projects for the Hamilton Board of Education and the Hamilton Wentworth Separate School Board, Faculty of Health Sciences, McMaster University-respirology research, Town of Ancaster Hockey Arena, Good Shepherd Hostel, Canadian Equestrian Team (Pan-Am games), Bach Elgar Choir, Ronald McDonald House, SPCA Hamilton (new building campaign), Hamilton Art Gallery, Faculty of Health Sciences, Hospitals - Princess Margaret, Oakville Trafalgar, Sick Children's (Toronto), Baycrest, ALS Society, St Joseph's Villa, Big Brothers, Hamilton Art Gallery.