Turner Park Closing Early
On January 19 2021, Turner Park branch closed at 5:00pm for thorough cleaning after an HPL employee became ill. While at work, the employee was wearing appropriate personal protective equipment and maintained physical distancing. A thorough cleaning and disinfection of the branch will occur overnight. The branch reopens Wednesday, January 20 at 10:00am.
Publish Date:
Tuesday, January 19, 2021 - 5:00pm
RBDigital Magazines moving to OverDrive/Libby
On January 29, 2021 all magazines on RBDigital are moving to OverDrive and Libby.
Unlimited access to all magazines, including the Economist.
Up to three years of back issues for each title.
You can still access Acorn and Great Courses through RBDigital.
Publish Date:
Tuesday, January 19, 2021 - 3:30pm
Local History of Hamilton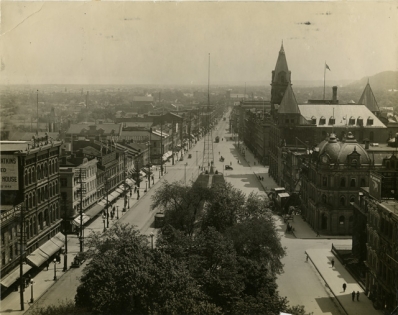 Within this collection are the almost 2,000 scrapbooks on topics of local interest, including churches, elections, hospitals, crime, the Hamilton Harbour, weather, theatre, sports, politics, historic houses, and people. These include large sets of scrapbooks clipped from the Hamilton Herald, the Hamilton Times and the Hamilton News, as well as a set of scrapbooks collected by a local newspaper editor, Herbert Fairbairn Gardiner. All of these volumes are indexed for easy access.
Other specialized books in the Local History Collection include City, Township and County Minutes, histories of the city and surrounding areas, weather statistics for Hamilton going back to 1866, local company and organizational annual reports, poetry and works of fiction by local authors.
These books cover every conceivable aspect of life in Hamilton, from earliest time to the present. The oldest Hamilton imprint in the collection is Samuel Thomson's New Guide to Botanic Health, or Botanic Family Physician, printed in 1832. Other rarities in the collection include The Canadian Housewife's Manual of Cookery, published in 1861, Public School Domestic Science by Adelaide Hoodless, a complete set of city Council Minutes from 1833 to 1986, a set of Board of Education minutes from 1856 to 1990, telephone books from 1881 to the present, voter's lists from 1874, 1878, 1881, 1882 and 1889, a post card collection containing rare views of Hamilton and area, and sets of indexes to the records of local funeral homes prepared by the local Genealogical Society. The Blachford & Wray Funeral Home Collection, the originals of which are held by the Department, go back to 1851. Another unusual item is a set of 174 pamphlets, originally donated to the Hamilton Association and subsequently given to the library from the library of Thomas Coltrin Keefer. They relate to mid-19th century railways and canals and are an invaluable source of data for students of this subject.
 
Also in the Local History collection is a variety of local periodicals. One of the earliest is a tiny volume called The Lilliputian Argus from 1842. If you want to read scandal and gossip, this little book is for you. The collection also includes a collection of Frank Leslie's Illustrated Newspaper from the first issue in 1855 to the 1888 issue. Some of the best Civil War illustrations ever created are found in this periodical. There are also some items of local interest as well, including an illustrated report on the Desjardins Canal Disaster of 1857. The periodical collection also contains school yearbooks from many of the area high schools.
Local History & Archives contains material related to almost any aspect of Hamilton history you might imagine. Contact or visit us to get started with your research!