There is nothing to display at this time
Beware of Phishing Attempts
Please be aware of online phishing attempts impersonating Hamilton Public Library and Library Staff. HPL does not solicit paid freelance opportunities through social media or other messaging applications. HPL does not request personal or banking information through social media or require financial compensation when reviewing job applications. Please report phishing schemes to communications@hpl.ca. 
If you think you are a victim of fraud, please visit the Canadian Anti-Fraud Centre at 1-888-495-8501.
Publish Date:
Tuesday, September 27, 2022 - 9:00am
Turner Park Branch JAWS (Job Access with Speech) computer out of order
There is currently no access to the JAWS computer at Turner Park Branch. We're working to fix it and will post updates on hpl.ca. Thank you for your patience.
Publish Date:
Sunday, September 25, 2022 - 5:15am
History of City Hall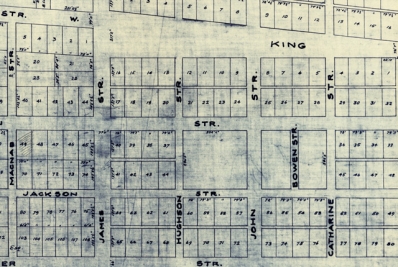 When the Town of Hamilton was incorporated in 1833, one of the first orders of business, after a closely fought election where 3 out of the 4 candidates had no opposition (1), was to find a suitable place for the town board to meet. For the first few years they made do with meeting in local taverns, such as Thomas Wilson's inn on the corner of John and Jackson Streets (2). Mr. Wilson had no objection as he was paid quite well for the privilege of having the governing body of Hamilton in his establishment. The accounts for the town list his payment for the rental of the room as £0/7/6 in 1835 (3).
However, a tavern was not the ideal place to conduct the business of the town and in 1835 Council paid Stephenson Woods £2/15/0 for a plan of an Engine House. In 1836 they paid William Hardy £1/5/0 for drawing the specifications for this plan, contracting Scott & Biggart to build the structure. By November 25, 1835, Council had paid a total of £50/0/0 on account for the construction (4). On August 9, 1836, A. Ross & Co. was paid (£2/0/0) for painting the Engine House (5) and council soon moved in, sharing quarters with the fire department and with the cells in the basement, to conduct the city's business from this more suitable environment.