Large format printer - Central Library
The large format printer at Central is currently out of order. The closest available large format printers are at Terryberry and Valley Park. We apologize for the inconvenience.
Publish Date:
Friday, September 22, 2023 - 12:00pm
Central Library- Study Hall
A new Study Hall on the 1st Floor at Central Library begins Monday, September 25, 2023. Study Hall hours are quiet spaces for Members to work or study. For more details, visit www.hpl.ca/study-halls.
Publish Date:
Monday, September 18, 2023 - 11:30am
Hamilton Reads 2023 - Activities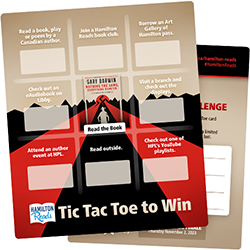 Like Motl's quest story, try our summer reading challenge. Pick up a Tic Tac Toe card at any 
branch
,
bookmobile
, or
download one
. and complete the tasks. Three in a row earns an entry into a prize draw. Finish all nine and you'll earn a limited-edition* belt bag/fanny pack/shoulder holster (it's the carryall that goes by many names). *While supplies last. 
Prizes can be picked up at any branch.