There is nothing to display at this time
Terryberry and Westdale Branches
Renovations at both the Terryberry and Westdale Branches are wrapping up. Both locations are expected to reopen in mid-July. Please stay tuned to our website and social media channels for updates. Thank you for your patience.
Publish Date:
Monday, June 27, 2022 - 10:30am
The Accessible Washroom at the Binbrook Branch is temporarily unavailable.
Please be advised that the Accessible Washroom in the Binbrook Branch is currently out of order. There is no estimate when the issue will be resolved at this time. We apologize for the inconvenience.
Publish Date:
Monday, June 27, 2022 - 8:45am
Little Free Pantry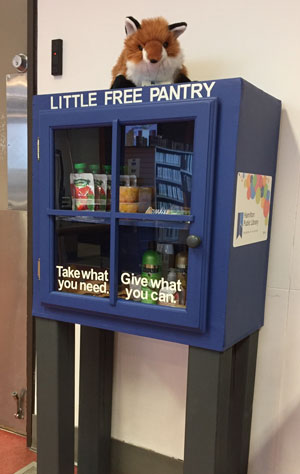 The Little Free Pantry has moved to our Concession Branch. 
The Little Free Pantry is like the Little Free Libraries that dot the city, however, instead of books, the Pantry is chock full of food and hygiene items, as well as winter accessories and school supplies.
Anyone who needs items from the Pantry is welcome to them, and anyone who wants to donate can do that too. Donations such as canned foods, bottled water, toothbrushes, shampoo, soap, diapers, hats, mittens, scarves and gift cards for grocery stores are welcome. 
If you have any questions about the Little Free Pantry, please contact Concession Branch staff at 905-546-3415.