There is nothing to display at this time
Scheduled Catalogue Maintenance - May 29
The catalogue may be unavailable on Sunday May 29 between 6-10am during the monthly maintenance window. We apologize for the inconvenience and thank you for your patience.
Publish Date:
Thursday, May 26, 2022 - 4:30pm
Rymal Road East Construction near Turner Park Branch
Starting Monday May 9, construction starts on Rymal Road East between Massena Drive and Republic Avenue near the Turner Park Branch. The lights will be deactivated and the turning lanes will be closed.
Please use eastbound lanes only to plan your branch visit.
Thank you for your patience.
Publish Date:
Thursday, May 26, 2022 - 9:30am
Carlisle Branch closing
The Carlisle Branch (1496 Centre Rd.,) closes Saturday May 28 at 5pm. The exterior drop box is available until June 1st. The new branch at 277 Carlisle Rd., is expected to open in mid-June 2022.
Publish Date:
Wednesday, May 25, 2022 - 1:15pm
Hamilton Public Library Blazes a Way to the Must-Read Book of the Year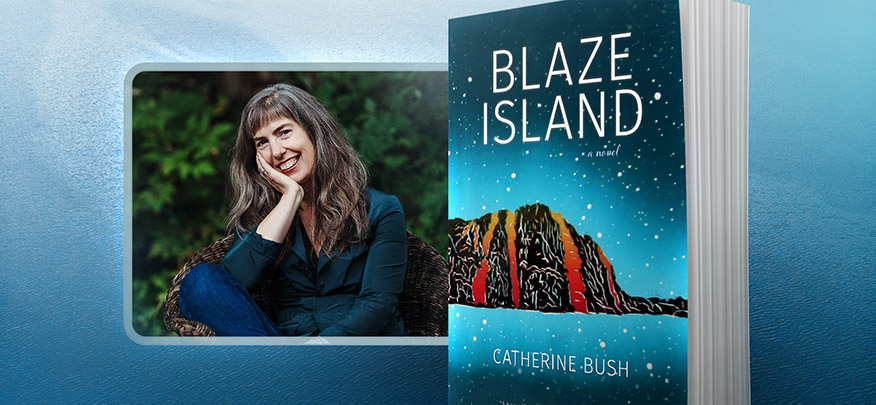 HAMILTON, ON – May 5, 2021 – Blaze Island is Hamilton Public Library's Hamilton Reads 2021 title. The ecological thriller about climate change is written by Canadian author Catherine Bush.
As a Category 5 hurricane sweeps the eastern seaboard of North America, it leaves devastation and despair in its path. The storm disrupts the present and stirs up the past for Miranda and her father Alan who escape to an isolated cove in Canada's Maritimes. In the aftermath of the storm, their lives are turned upside-down.
Author Catherine Bush is "thrilled and honoured" to have Blaze Island chosen for Hamilton Reads 2021. "I look forward to discussing my book with readers and setting off together on journeys of discovery and resilience."
"While the pandemic shapes our immediate lives, the climate crisis goes on gaining force. When it comes to transforming the future, acts of imagining are as essential as any other gesture. We need to story our way into new possibilities," the author adds.
"Throughout the COVID-19 pandemic, books have been an escape and a common ground for many people" says Lisa Weaver, HPL's Director, Collections and Program Development. "This has been a record-breaking year for borrowing books at HPL. Hamilton loves to read and Blaze Island opens the door to many important conversations regarding climate change and caring for our environment."
Hamilton Reads is HPL's annual literary celebration in which the community is invited to discuss and examine several themes in one book. Blaze Island joins a long list of several great Hamilton Reads titles including Lawrence Hill's The Illegal, Miriam Toews' All My Puny Sorrows and Tom Wilson's Beautiful Scars, to name a few.
Among the new features this year is Telephone Stories, in which HPL Staff read the Prologue and Chapters 1-5 of Blaze Island. Coming in mid-May. Dial 905-546-3200 and follow the prompts. Hamilton Reads also includes online concerts, author visits, programs, book clubs and more this year, to allow Members to connect safely with each other. Visit hpl.ca/hamilton-reads for details about the author, book and updates on events.
Blaze Island is currently available as a book and eBook. An eAudiobook is available, via OverDrive, in Fall. Borrow with a library card or sign up for an eCard today at hpl.ca.
About Hamilton Public Library
The Hamilton Public Library is a vibrant hub for information and culture, providing our diverse community the Freedom to Discover. As one of the largest library systems in Canada, Hamiltonians will discover something new at our 22 locations, two bookmobiles, or through our extensive digital collections. Visit us online at hpl.ca. Connect with us on Twitter @hamiltonlibrary and Facebook at HamiltonPublicLibrary.