There is nothing to display at this time
Beware of Phishing Attempts
Please be aware of online phishing attempts impersonating Hamilton Public Library and Library Staff. HPL does not solicit paid freelance opportunities through social media or other messaging applications. HPL does not request personal or banking information through social media or require financial compensation when reviewing job applications. Please report phishing schemes to communications@hpl.ca. 
If you think you are a victim of fraud, please visit the Canadian Anti-Fraud Centre at 1-888-495-8501.
Publish Date:
Tuesday, September 27, 2022 - 9:00am
Turner Park Branch JAWS (Job Access with Speech) computer out of order
There is currently no access to the JAWS computer at Turner Park Branch. We're working to fix it and will post updates on hpl.ca. Thank you for your patience.
Publish Date:
Sunday, September 25, 2022 - 5:15am
March Break @ HPL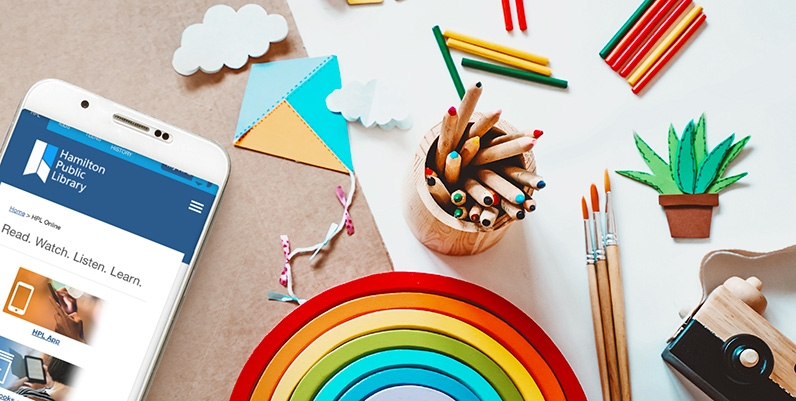 Spend March Break with HPL. Check us out online or visit a branch. 
READ
New Children's Books
New Teen Books
Tween Book Club (Ages 8-12)
Wednesday March 16, 4-5pm
Chat about your favourite titles, discover new ones and meet friends in this online program.
Climate Change Book Club - Read to Make a Difference
A reading list created by Team HPL and the Bay Area Climate Change Council (BACCC).
WATCH
Use your HPL card to watch family-friendly favourites online with Kanopy Kids and videos featuring Canadian and Indigenous voices on Summa Kids.
Storytime: Vroom, Choo, Oink, Neigh and Moo!
Thursday March 17 or anytime on our Storytime Playlist on YouTube 
March-April
Meet the Forest of Reading nominees, a celebration of Canadian books, authors, illustrators and publishers. Registration is required to receive the link to the author presentations.
 
LISTEN
New Children's eAudiobooks
New Teen eAudiobooks
Noon Hour Concerts
Friday March 18, 12pm
Sing and swing with children's performer LONE Rhubarbarian (Paul Fralick) in English, French and Spanish.
Use your HPL library card to start a family-friendly dance party with songs from Hoopla.
CREATE
Agents of the Internet
A McMaster Children and Youth University Online Workshop (Ages 8-12)
Monday March 14, 1-2pm
Learn the importance of identifying and using reliable sources.
Discover at Home (Ages 4-12)
Read, create, experiment and explore our activity sheets. Use our Print on the Go to print from home or your mobile device.
Virtual Time Machine to Hamilton's Future
A McMaster Children and Youth University Online Workshop (Ages 8-12)
Tuesday March 15, 10-11am
Enter a virtual time machine to Hamilton 100 years from now.
Green Screen Photo Booth – Central Library, 4th Floor Photo Studio
Tuesday March 15 9am-6pm
Have your photo taken in front of our green screen. Choose from several backgrounds.
LEGO Mindstorms Freeplay – Central Library, 4th Floor Photo Studio
Thursday March 17, 9am-6pm
Build the robot of your dreams with one of our LEGO Mindstorms kits, and watch your creations come to life.
Create a Podcast Online (Ages 12-18)
Saturday March 19, 10-11am
Learn which equipment and software is needed to record a podcast, how to use them and how to distribute the finished product online.
 
EXPLORE
Borrow passes for free admission to the Art Gallery of Hamilton, Hamilton Civic Museums, Grand River Conservation Authority sites, Hamilton Conservation Authority areas, and any of Ontario's 100 provincial parks with an Ontario Parks pass.
Kids ages 6-12 can get a PRESTO card to ride HSR transit free until April 30, 2023. Visit your local branch to get a free bus card and start exploring the Hamilton community at large.