HPL Catalogue New Look
A new look is coming to HPL's catalogue on Tuesday April 20. Explore and enjoy larger book cover images, simpler tools, easier navigation and other design improvements.
Publish Date:
Tuesday, April 13, 2021 - 12:00pm
Inclusive Art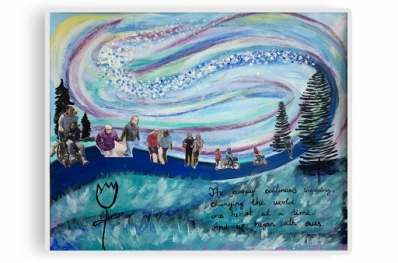 Three exhibits at Central Library celebrate work by disabled artists at L'Arche Hamilton and Disability Justice Network Ontario.
The display at Gallery4 is entitled Not (Just) Disabled Bodies: Past(s) and Present(s). It is a collaborative project organized by the Disability Justice Network of Ontario. The screen across from the public elevators on the 1st Floor at Central illustrates a History of Disability Rights and Justice in Canada.
Gallery4 Annex on the 4th Floor at Central features the work of the day program participants in the L'Arche Creative Hands Studio. This exhibit is called L'Arche Hamilton Through the Years.
HPL supports this mandate with these Accessibility Features.