There is nothing to display at this time
Central Library Jackson Square Entrance and Book Drop
Central Library's Jackson Square door and drop box reopen February 1.
Publish Date:
Wednesday, January 26, 2022 - 3:15pm
Art Gallery of Hamilton Pass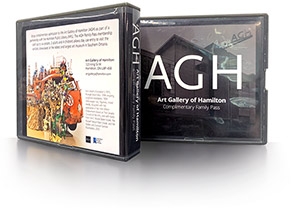 As part of the province's response to the Omicron variant, Art Gallery of Hamilton (AGH) is temporarily closed from January 5 to February 12, 2022.Lending of the AGH pass is paused.
Please visit artgalleryofhamilton.com for virtual tours and exhibitions.
As a Hamilton Public Library Member, you know there's a world of discovery, all for free. Now there's more to enjoy with free admission -- for as many as two adults and four children (up to age 17) -- to the Art Gallery of Hamilton (AGH). This is an exciting partnership with Hamilton Public Library (HPL).
This AGH Pass is valid for one week, during regular operating hours at the AGH.
What can I see at the AGH with this Pass?
You can see all current exhibitions including temporary, special and permanent exhibits.
How can I find out about current exhibits at AGH?
Visit www.artgalleryofhamilton.com for details. Visit the What's On page to find out about programs, and tours included with admission
Are there discounts available with this Pass?
You can get 10% off an AGH membership with this Pass. This Pass doesn't provide discounts at the AGH shop or Horse and Train Bistro.
Can I use this Pass to get into any other art galleries or museums?
No. This is for use only at the AGH.
Can I attend special events/workshops with the AGH Pass?
Yes. This Pass allows entry to exhibit openings and any free events, such as the annual family picnic. (Keep in mind, all are welcome to free events. An AGH Pass isn't required.) This Pass can't be used to gain entry to any events or workshops where an additional charge above admission is

Borrow the AGH Family Pass with your HPL library card.
Need a Library Card? Register at any HPL branch or Online.