About the Book & Author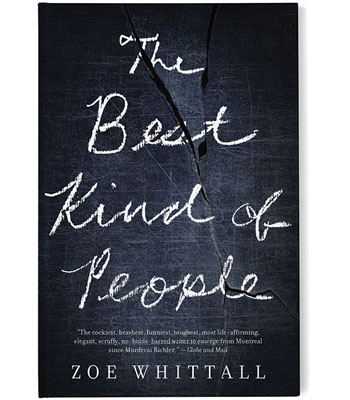 Zoe Whittall's novel tells the story of George Woodbury,  a well respected prep-school teacher who is the school hero for having tackled  a school shooter a decade earlier. He lives with his wife Joan -- the head trauma nurse at the local hospital -- and his 17-year old daughter, Sadie, in a part of town called Woodbury Lake, named after his parents. His son, Andrew, a lawyer, lives in New York with his boyfriend.
Early in the novel, George is arrested. He is charged with four counts of sexual misconduct with a minor and attempted rape. The Woodburys' lives are in turmoil and the novel profoundly explores how each character faces the deeply disturbing accusations.
Zoe Whittall is the award-winning author of The Best Kind of People (2016), which was a finalist for the Scotiabank Giller Prize and selected as Indigo's Number One Book of the Year. 
She is also the author of The Best Ten Minutes of Your Life (2001), The Emily Valentine Poems(2006), and Precordial Thump (2008), and the editor of Geeks, Misfits, & Outlaws (2003). Her debut novel Bottle Rocket Hearts (2007) made the Globe and Mail Top 100 Books of the Year and CBC Canada Reads' Top Ten Essential Novels of the Decade.
Her second novel Holding Still for as Long as Possible (2009) won a Lambda Literary Award and was an American Library Association Stonewall Honor Book. She was awarded the K.M. Hunter Artist Award for Literature in 2016. Her writing has appeared in the Walrus, the Believer, the Globe and Mail, the National Post, Fashion, and more.
She has also worked as a writer and story editor on the TV shows Degrassi, Schitt's Creek, and the Baroness Von Sketch Show. Born in the Eastern Townships of Quebec, she has an MFA from the University of Guelph and lives in Toronto.
"Heartbreaking and complex, The Best Kind of People offers no easy answers. This is a masterly exploration of the damage an entire community incurs when the secret at the heart of its most perfect family detonates."
- Lynn Coady, author of The Antagonist
"The jury found Zoe Whittall's The Best Kind of People urgent and timely, nuanced and brave. This gripping story challenges how we hear women and girls, and dissects the self-hypnosis and fear that prevent us from speaking disruptive truth. With subversive precision and solid veracity, Whittall calls into question pervasive forms of silence and acquiescence."
- 2016 Scotiabank Giller Prize Jury