Jackie Washington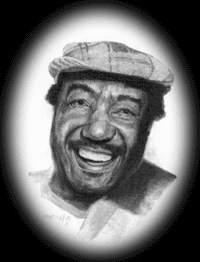 Jackie Washington (1919-2009)
Inducted: 1995
Jackie Washington's seven-decade career as a performer has enriched the cultural life of his native Hamilton, and has earned him recognition across Canada.
Born in Hamilton, Jackie Washington made his performing debut at age 5 in a duet with his brother Ormsby in 1924. Soon a quartet consisting of Jackie and Ormsby joined by siblings Harold and Doc performed at church socials and company parties. During this time, Jackie learned to play the guitar, and after 1930, the piano. In the early 1940s, Jackie performed on CKOC along with Sonny Johnston as the Personality Boys. Still, music could not provide a living for the young performer, and Jackie worked as a CPR sleeping car attendant, factory worker, washroom attendant and as operator of a shoe shine stand at Fort Erie Racetrack. During this time, Jackie continued to develop his growing repertoire of songs and to entertain his bosses and fellow workers.
Jackie's musical career was greatly advanced in 1964 at age 45, when folk music promoter Bill Powell introduced Washington to Toronto's Yorkville music scene.
In June 1976, Jackie Washington released his first album - Blues and Sentimental. In 1983, Jackie make his film debut, appearing in Sneezy Waters movie Hank Williams - The Show He Never Gave. He has also performed on CBC Radio and Television.
In November 1984, Jackie Washington received the Hamilton Arts Award. In 1989, after diabetes resulted in the loss of a foot, he was honoured at a benefit concert in Toronto which was attended by over 30 luminaries from the Canadian music scene.
Despite his health problems, Jackie Washington continues to perform. He has missed only one of the 20 Festivals of Friends held between 1975 and 1995. Jackie Washington is also a regular at London's Home County Festival. For having brought joy to thousands of his fans and for the remarkable example he has set with his tolerance and good cheer, Jackie Washington is a worthy addition to Hamilton's Gallery of Distinction.