John Gavin Sheppard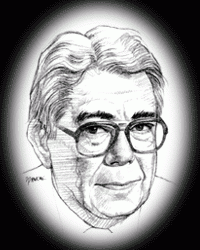 Dr. John Gavin Sheppard
Inducted: 1992
Dr. John Gavin Sheppard was born in Ottawa in 1916, but moved to Hamilton at the age of three and received his secondary school education at Delta Collegiate. He spent 52 years at Dofasco, beginning his professional career as an office boy and retiring in 1988 as Vice Chairman of the Corporation. He helped shape Dofasco's leadership position in the steel industry in both Canada and the United States.
John Sheppard has contributed to the fabric of Hamilton through his generous community work a member of the Board of Governors of McMaster University, President at both the local and national levels of the Junior Chamber of Commerce and the Financial Institute of Canada, Chairman of the Hamilton United Appeal (now call the United Way), the Hamilton YMCA, the Canadian Club of Hamilton, the Art Gallery of Hamilton, Chairman of the Board of the Royal Botanical Gardens, and a member of the boards of directors of eight companies and five charities.
An indefatigable industrial and community leader whose extensive contributions to Canadian society were recognized in 1984 when he was made a member of the Order of Canada and in 1990 when McMaster University conferred upon him an honorary degree.