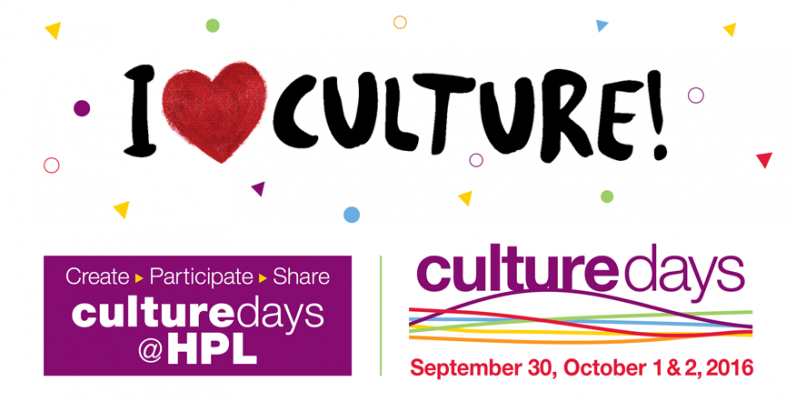 HAMILTON, ON – September 28, 2016 – Hamilton Arts Council (HAC) and Hamilton Public Library (HPL) are partnering this year with Culture Days Ontario to bring Culture Days events to HPL.
Local artists and performers responded enthusiastically to our offer of free gallery, studio or performance space at library locations. Together, HAC and HPL are hosting a wide range of interactive cultural events this weekend.
CultureDays@HPL offers 14 events at 9 of HPL's 22 locations on Saturday, October 1 and Sunday, October 2. There is something for everyone. From hands-on arts, crafts and photography workshops to musical jam sessions and theatre workshops.
WHAT:    Official Launch of Culture Days in Hamilton
WHEN:    Friday, September 30, 2016 1 p.m.
WHO:      Representatives from Hamilton Public Library and Hamilton Arts Council
     Local artists taking part in CultureDays@HPL, including Chandra Rice, Evette Haddad and Norris Podetz
WHERE:  Hamilton Public Library - Central Library 55 York Boulevard 1st Floor – Hamilton Room
LINKS:     HPL: http://www.hpl.ca/season/all/culture-days
                Ontario Culture Days: https://on.culturedays.ca/en/culture-days-the-library
About Hamilton Arts Council - The Hamilton Arts Council is a charitable arts organization working on behalf of Hamilton's diverse cultural community since 1973. It is the central hub for artists, organizations and businesses drawn to the city by our expanding creative opportunities. Visit us online at hamiltonartscouncil.ca. Follow us on Twitter at @HamArtsCouncil and like us on Facebook at /hamiltonarts.council.
About Hamilton Public Library - The Hamilton Public Library is a vibrant hub for information and culture, providing our diverse community the Freedom to Discover. As one of the largest library systems in Canada, Hamiltonians can discover something new at our 22 locations, two bookmobiles or through our extensive digital collections. Visit us online at hpl.ca. Follow us on Twitter @hamiltonlibrary. Like us on Facebook at /HamiltonPublicLibrary.