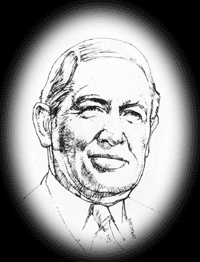 Russell Kelley (1877-1952)
Inducted: 1991
Russell Temple Kelley was born in the County of Bruce in September, 1877. A distinguished public servant and one of Canada's most outstanding men in the advertising field, Mr. Kelley was deeply interested in church work and activities which furthered the interest of the community.
During his illustrious career as a businessman and politician, he was elected Citizen of the Year in 1944. As a politician, he rose to the position of Minister of Health in Ontario. He was a director of the Chamber of Commerce for over 20 years and served two terms as its president.
Other activities included; President Hamilton Rotary Club; President Elgar Choir; Chairman of the Ontario Blood Donor Committee; Director of the Hamilton YMCA; President of the Hamilton Automobile Club.