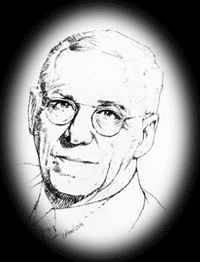 Lloyd D. Jackson (1888-1973)
Inducted: 1991
Born on a farm near Sarnia, Ontario, in April 1888, Lloyd D. Jackson lived to become one of Hamilton's longest serving mayors. His rugged play on university playing fields and ice rinks during the early 1900's earned him the nickname "Slugger". Several decades later he charged into the bread business in Hamilton with that same dedication and toughness. And those who challenged the Slugger during his 13 years as the city's mayor usually came away with some verbal bruises.
A dynamic leader and man of vision, it was he who pushed for a Canadian Football Hall of Fame, the Art Gallery, Macassa Lodge and Confederation Park. It was his vision of a Main Street West site for City Hall that opened up the downtown area for urban renewal. Co-winner of the first B'nai Writh Humanitarian Award, he and his wife were also joint recipients of the Distinguished Citizenship Award.