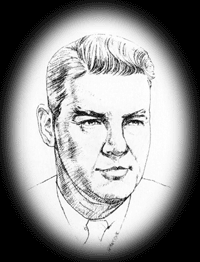 Roy Gilmour Cole (1912-1999)
Inducted: 1991
Noted for his marksmanship, Roy Cole won many national and international championships. He was a member of the Canadian Olympic rifle team which competed in Helsinki in 1952.
His community service was very diverse; President of the Hamilton Community Concert Association; Warden of Wentworth County; Reeve of Barton Township; Director of the Canadian Automobile Association, the Ontario Motor League and the American Automobile Association.
As an art collector, Roy Cole did much to share the beauty of his acquisitions with others. His extensive collection, once on display at the Art Gallery of Hamilton, filled three of its galleries. His support of the Hamilton Art Gallery was very much in evidence when he donated a $60,000 Tom Thomson.
Born in 1912, Roy G. Cole became a prominent businessman, president of Cole Lumber and tireless supporter of the community.