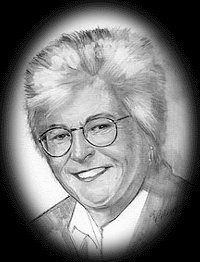 Pat Cole
Inducted: 2000
Pat Cole has been an active runner and coach since 1958. She was a Canadian track and field champion in 1959, and in the same year represented our country in the Pan American Games in Chicago where she was a finalist in the 60m and 200m.
In the early 1970's Pat coached the National Track and Field team and accompanied them to Osaka, Japan for the Pan-Pacific Rim Games. She was also the Pan American Games coach, taking the team to Brazil.
Pat's years of dedication to coaching also include; The Hamilton Olympic Club from which five of her athletes made international teams, The McMaster University's women's track and field team from 1967 to 1977, and McMaster's women's hockey of which she was the assistant coach for two years-each year the team made the finals.
What may be surprising about Pat's coaching accomplishments is that she did it all as a volunteer. And her hard work volunteering doesn't stop at coaching. Pat's community involvement in Hamilton is also very extensive. She initiated a campaign to keep Junior Hockey in Hamilton, heading a committee to organize and sell corporate group sales. She's organized and operated a city wide Track and Field Program for youngsters (7 to 14 years of age) for Hamilton's recreation department. She assisted with organizing and operating a city wide basketball program for girls 7 to 15 years of age. Pat sat in on group discussions regarding university scholarships for Hockey Canada and for promotional ideas for the Toronto Toros (World Hockey Association). Pat also participated in a civic study group to upgrade track and field facilities in Hamilton.
Pat Cole was the first woman inducted into McMaster's sports hall of fame. The university also recognized her countless hours of personal time and commitment to volunteering with the "Friends of Distinction" award.
Pat's strong devotion to sports, as a participant, coach, mentor and perhaps most importantly, volunteer, reflects as a positive influence on the community-her devotion is Hamilton's fortune.