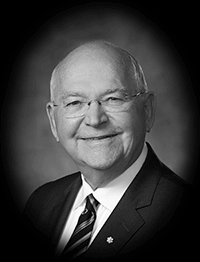 Dr. H. Douglas Barber
Inducted: 2013
When Doug Barber co-founded Linear Technology in 1973, the fledgling Burlington firm employed 23 people.  Under Doug's participation in the leadership of Linear, it became Gennum, a microcircuit designer, manufacturer and marketer employing 500 with global sales over $105-million. This Canadian success, with origins in Saskatchewan and strong roots in Hamilton, is a testament to Doug's commitment to his profession, his community and his family.
Doug's interest in semi-conductors was piqued while studying in his home-province University of Saskatchewan, where he earned the Governor General's Gold Medal. He would go on to earn his Ph.D as an Athlone Fellow and NATO Scholar at London's Imperial College. Returning to Canada, he settled in Dundas and with wife June, raised four children. Doug leads with humility and grace. His commitment to future generations is evidenced through his teaching, mentorship and philanthropy. A long-serving part-time professor at McMaster and a member of its Board of Governors, Doug and June have supported both Mac and the University of Saskatchewan and many other worthy Hamilton initiatives. A founding member of the Hamilton Civic Coalition in 2004, he remains active in many initiatives to increase Hamilton's industrial success and prosperity.  An Officer of the Order of Canada, an engineer of achievement, an extraordinary entrepreneur and teacher, Doug Barber is a worthy addition to Hamilton's Gallery of Distinction.