Kyran Kennedy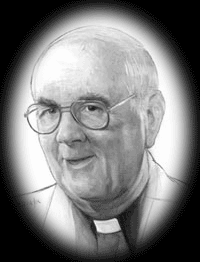 Father Kyran Kennedy (1927 - 2012)
Inducted: 2002
Father Kyran Kennedy has devoted his life to serving the needs of the Hamilton community. A man of compassion, deep, unwavering faith, and a commitment to community service, Father Kennedy is a leader in education, health and recreation who has worked to improve opportunities for both able-bodied and disabled youth.
As a coach at Cathedral High School Father Kennedy played an instrumental role in the creation of a dynamic and celebrated basketball program. In 1957 he was appointed Diocesan Director of the Catholic Youth Organization, guiding the fledgling agency through its first years as a United Way member. In 1961 C.Y.O. re-opened Camp Brebeuf, a residential youth camp that integrated disabled children into its program and pioneered the inclusion of campers with special needs into Ontario Camping Association member camps.
Father Kennedy has been a member of the Hamilton-Wentworth Roman Catholic Separate School Board since 1968, board chairman for seven of those years and chairman of the Finance Committee for three years. From 1974 to 1986, he was a member of the St. Joseph's Hospital Board of Trustees, acting as chairman from 1983 to 1986.
As a young man Father Kennedy studied philosophy at St. Michael's College in Toronto where he decided to become a priest. He went on to study theology at St. Augustine's Major Seminary in Toronto and was ordained to the priesthood in 1952. Father Kennedy served six Hamilton parishes until his retirement in 1994. In 1998, he received the award for distinguished service for his outstanding contribution to Catholic education.