John Richard "Cap" Cornelius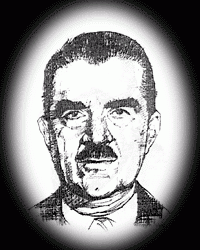 John Richard Cornelius (1882-1964)
Inducted: 1990
John Richard Cornelius, was born in Edinburgh, Scotland.
He served with the 4th Battalion, Royal Scots of Edinburgh before emigrating to Canada. During the First World War, he led a Hamilton platoon of the 58th Infantry and was a Professor of Military Science at Princeton University.
Head of the Physical Education Department at Central Collegiate Institute, his teams of teenage runners for four decades smashed records making the Collegiate's name familiar across North America. Acclaimed as one of the most successful coaches in the world, and the greatest in Canada, during one twelve-year period, his team won even first at the Penn Relays in Philadelphia, including three world records in one afternoon, an unparalleled feat.
His runners competed in the 1924 and the 1928 Olympics and the 1932 Canadian Relay team won the bronze medal. He took Canada's first large bore cadet rifle team to Bisley in 1929 and established records which stood for years. He coached rowing, conducted the school orchestra and wrote plays, which he also directed. He retired from teaching in 1950, but continued to coach until 1961. In 1957, he was named Hamilton's Man of the Year, and in 1964, he received one of the first Ontario Government Achievement awards recognizing his devotion to sports and to his students.