Writer-in-Residence: Nilofar Shidmehr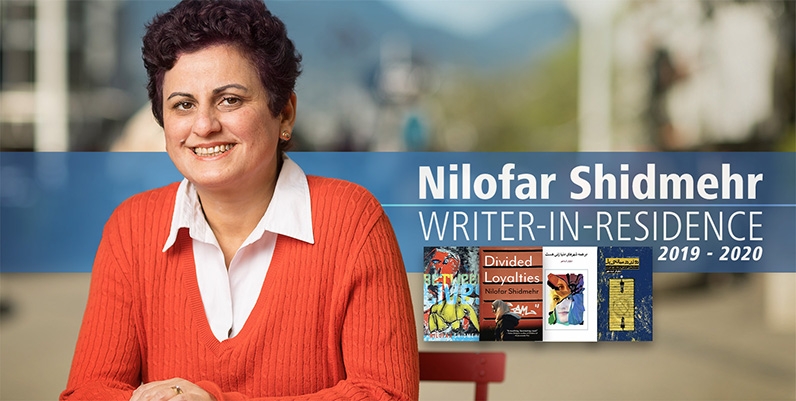 Hamilton Public Library and McMaster University proudly announce Nilofar Shidmehr as the Mabel Pugh Taylor 2019/20 Writer-in-Residence.
Nilofar Shidmehr is a bilingual poet, fiction writer, essayist, arts-informed scholar, and author of seven books in English and Farsi. Her first poetry book in English, Shirin and Salt Man (Oolichan, 2008), was nominated for a British Columbia Book Prize. Her most recent book, Divided Loyalties (Anansi Press, 2019), is a collection of short stories exploring women's lives in post‐revolutionary Iran and in diaspora. It has already been well reviewed and promoted by CBC. The Globe and Mail included it in their 2019 list of "46 Books to Keep You Warm This Winter" and Open Canada Website included it in their "Summer Reads 2019: Ten books for globally minded vacationers." A PhD in cross faculty inquiry in education, Nilofar has been Writer-in-Residence at the City of Richmond, BC, and Regina Public Library. Her writing has been featured in many Canadian and Iranian literary magazines, including Room, The Danforth Review, The New Quarterly, Zaman, and Avaye‐Tabiid (The Voice of Exile).
As the Writer-in-Residence, Nilofar can provide valuable one-on-one feedback to help with your writing pieces.
Please join us for a reception to welcome Nilofar to Hamilton:
Thursday, September 26 at 7 pm
Central Library, 55 York Blvd. Hamilton
From September to April 2020, Nilofar will be at Central Library.
Office Hours: Thursdays
Time: 9 am to 5 pm
To make an appointment, email englwir@mcmaster.ca