Gallery4 on the 1st floor: November 2018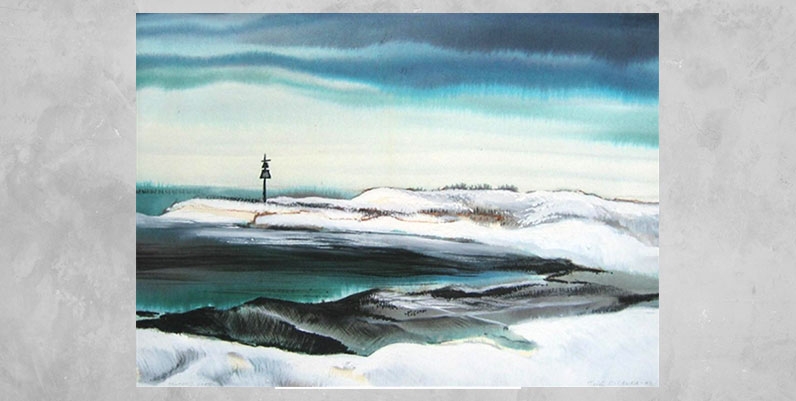 Latvia: Rich in Art and Culture by Talis Kikiuka 
Latvia celebrates its 100-year anniversary of independence on November 18, 2018. Latvia's rich culture, art, history and depictions of nature are represented in the paintings of well-known Hamilton artist Talis Kikauka.
Born in 1929 in Riga, Latvia, he immigrated to Canada in 1948 with his family and settled in Hamilton, Ontario. Kikauka earned a B.A. from McMaster University and soon established himself as a painter and writer. A prolific artist, he worked through a range of themes and media, favouring watercolour in his later years.
Over millions of years, rock forms have evolved as a result of wind, wave and rain erosion. These fluid forms are immersed in water: their unending flow has engraved lines in my perception. These are the forms that I use in my paintings. Talis Kikauka​
Central Library has proudly made gallery space available to downtown customers since 1980. Gallery4 is located on the 1st floor of the Central Library. It has hosted a variety of artists using every medium, from all ranges of paint techniques, photography and 3D installations.
Gallery4 Annex is located on Circuit 4.0 (4th floor Central Library) and provides space for community organizations and individuals to share their works.
Upcoming exhibits at Gallery4
December - City of Hamilton Arts Awards
*Please be advised that sometimes, due to unforeseen circumstances, artist line-up and/or exhibits can change at the last minute. We apologize for the inconvenience.