Gallery4 on the 1st floor: March 2019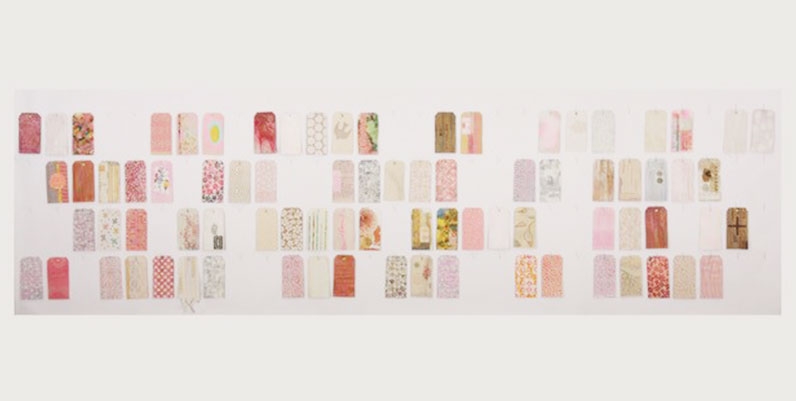 Poetic Memory by Karen Thiessen 
"The brain appears to possess a special area which we might call poetic memory and which records everything that charms or touches us, that makes our lives beautiful."

–– Milan Kundera, The Unbearable Lightness of Being.
Poetic Memory is mixed media series through which I "paint" awe and joy at the intersection of math and science.
Within a #6 tag modular format, I record multiple states of wonder using embroidery, printmaking, and collage. Chance operations determine the installation of the tags. Fibonacci number sized groupings of 2, 3, and 5 modules are separated by 1 or 2 module-sized spaces. Four-part harmony singing that is central to Dutch-German Mennonite worship is the impetus for the tags to be installed along four lines.
Poetic Memory is comprised of snapshot-sized moments that limn transitory delight offered to us daily during good times and bad, if we pay attention.
Gallery4 is located on the 1st floor and provides space for community organizations and individuals to share their work.
Upcoming exhibits at Gallery4
April - Ben Robinson 
May - Hamilton Music Archive
July - Frances Cockburn 
August - Prem Karthik Nagabhatla
September - Dave Gould
October - Robin McKee
*Please be advised that sometimes, due to unforeseen circumstances, artist line-up and/or exhibits can change at the last minute. We apologize for the inconvenience.