Gallery Turner Park: November 2018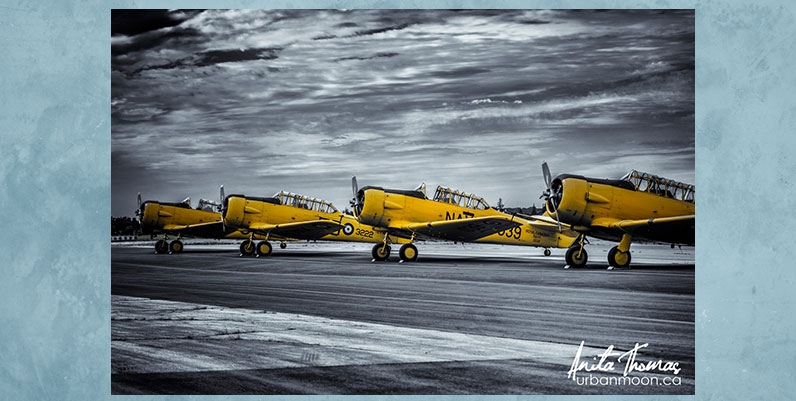 Vintage Wings by Anita Thomas 
Aviation and the aircraft from bygone days elicit strong memories for some, and emotion for most, whether it be through direct and personal connections or simply by a longing to experience it up close and first hand.
My aviation photography includes a collection of many aircraft. From the home-town favourites, the Avro Lancaster and the B-25 Mitchell, as well as the ever popular and showy Harvard trainers, to the very special and rare visiting aircraft such as the Mosquito, all are impressive and take us back in time.
My methods and approach to aviation photography draw on my background as a visual artist. At times I will edge realism ever so slightly for a more artistic feel while accentuating the lines and form through light and shadows.
My objective is to continue to explore my art through photography, furthering my experience and collection in aerial, aviation, landscape, nature and street photography. I strive to continue to exhibit and sell my works online, through galleries and to media outlets. - Anita Thomas 
Turner Park Branch offers artists from the community an opportunity to exhibit small intimate monthly shows in a dynamic public setting.
Upcoming Exhibits for Gallery Turner Park
*Please be advised that sometimes due to unforeseen circumstances, artist line-up and/or exhibits can change at the last minute. We apologize for the inconvenience.