Gallery Turner Park: December 2018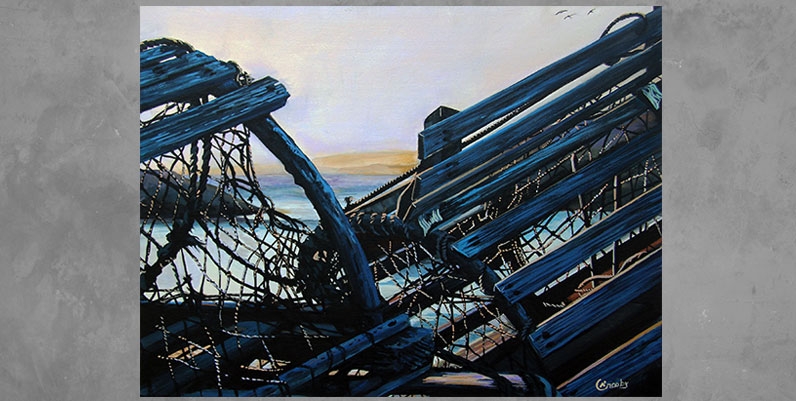 East Coast Reflections by Robert Crosby 
Born in Sydney Nova Scotia in 1960, he lived in Halifax until moving to Ontario in the early 70s, attending school in St Catharine's, graduating from Sir Winston Churchill High school. Rob later attended Niagara College taking the Visual Creative Art & Design program. Studying under master painter & print maker Ken Cosgrove in the late 70's early 80's. learning Graphic Arts and Life Painting as well as Silk screening and Drawing.
Later moving to Brantford for a job that he held for 24 years, always painting and doing his photography. Adopting two girls from China he has found a new meaning to life. Changing priorities to the things that really matter, like his family and his art. Getting back to showing in several art exhibitions and selling his paintings and prints, the passion to paint and photograph has been rejuvenated.
His heart still belongs to the East coast which is very evident in his work of fishing villages and boats and he hopes to retire in Nova Scotia someday and continue his art as a full-time obsession.
Won A Grant for Exhibition from Ontario Art Council in 2012 as well as putting his work in several galleries in Nova Scotia. He hopes to continue painting and showing his work anywhere that will let him.
Turner Park Branch offers artists from the community an opportunity to exhibit small intimate quarterly shows in a dynamic public setting.
Upcoming Exhibits for Gallery Turner Park
January - Prerana Das
Lincoln Alexander Elementary School 
*Please be advised that sometimes due to unforeseen circumstances, artist line-up and/or exhibits can change at the last minute. We apologize for the inconvenience.