Gallery Turner Park: August 2018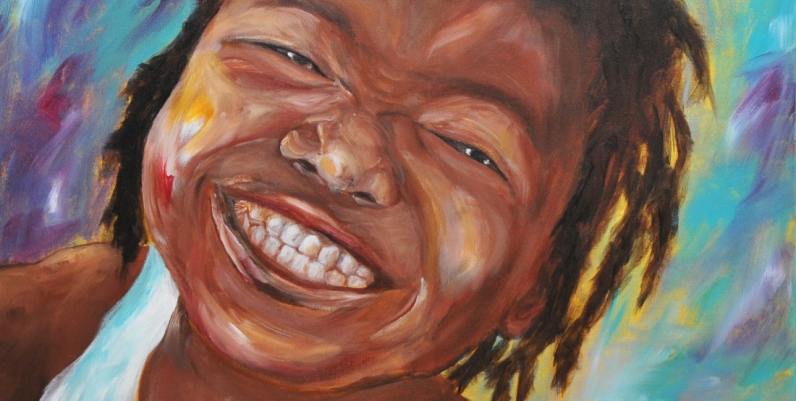 Best Place for a Child? by Marybeth Leis Druery
This series of acrylic paintings asks what children might tell us about Hamilton's vision "to be the best place to raise a child" and explores: Is this city the best place for all children? Are youth from every neighbourhood included? Are any left out as our neighbourhoods are transformed? What about the child within each of us? The concept for this series is inspired by personally working with at-risk youth and living in neighbourhoods of Hamilton that struggle with poverty. I've received permission to paint images of children in several Hamilton programs for at-risk youth.
The show invites an encounter between the viewer and the children. Rather than simply associating statistics with youth who experience poverty, these paintings are an encounter with the delight, creativity, presence, resilience, curiosity, and other intrinsic qualities that all children share. My paintings vibrantly express the real emotional responses of children to the ups and downs of everyday life. Through vivid colour, texture, and form, I make visible the open vulnerability that children carry - the unvarnished innocence, wonder, play and freedom, as well as honesty about sadness and joy, that we once knew and can again discover in our adult lives
My art supports the local charity Student Open Circles, mentoring and empowering students from diverse backgrounds in personal and spiritual reflection, community service, and leadership development. Student Open Circles coordinates over 300 McMaster students to volunteer weekly each year, giving 10,000 hours in service with risk children and youth, adults living with disabilities, recent immigrants, and at homeless shelters. 
Marybeth Leis Druery is an expressive visual artist and creative workshop facilitator who integrates the arts with mindfulness and reflection. In her work with the Hamilton charity Student Open Circles, she leads groups and individuals in exploring self-expression through various creative mediums, facilitating growth in self-awareness, meaning-making, leadership, and engagement in social justice. Her vibrant paintings are exhibited locally, in international publications, and in many private collections.
Turner Park Branch offers artists from the community an opportunity to exhibit small intimate monthly shows in a dynamic public setting.
Upcoming Exhibits for Gallery Turner Park
September - Holly Ginsler
October - Ryan James Terry
November - Anita Thomas 
December - Rob Crosby 
*Please be advised that sometimes due to unforeseen circumstances, artist line-up and/or exhibits can change at the last minute. We apologize for the inconvenience.