Gallery Stoney Creek: Sept/Oct/Nov 2019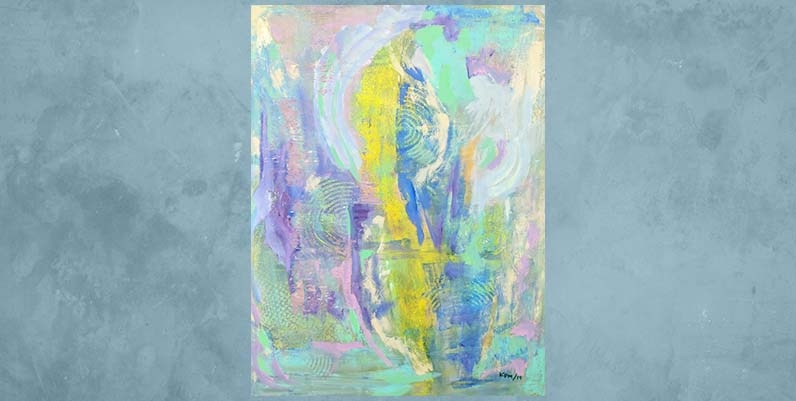 Freezing Days: Katia Perez Mendez
The present exhibition is about Winter. I was motivated to paint "Freezing Days" of February 2019. I want to show the viewer the colour scheme of the Winter and also the texture that the cold days produced in my mind.
Katia Perez Mendez was born in Bogota, Colombia and arrived in Canada in 2008. She trained as an architect and developed her art style while painting urban landscapes in watercolour and oil on canvas. She was a university professor where she taught drawing, painting and art history in Bogota. Since 2010, Katia began to teach art to children, adults and seniors in Hamilton and Niagara Region. Her paintings have exhibited at galleries in Toronto, Hamilton, and Niagara on the Lake. In 2014, she received a Civic Recognition Award for her art work at the Grimsby Public Art Gallery. Since 2012, has participated at Grimsby Heritages Art Competition where she was awarded in different years. In St Catharines, she was nominated at the St Catharines Art Awards in 2015 as an artist Making the Difference and 2018 as an Artist Educator. Since 2017, she has worked as an Art Instructor at the City of St Catharines. This year, she started to work at the DSBN - Continuing Education in Welland and St Catharines.
​
The Stoney Creek Branch offers artists from the community an opportunity to exhibit quarterly shows in two areas of the library. 
Upcoming exhibits at Gallery Stoney Creek
*Please be advised that sometimes due to unforeseen circumstances, artist line-up and/or exhibits can change at the last minute. We apologize for the inconvenience.