Gallery Dundas: December 2018/January 2019/February 2019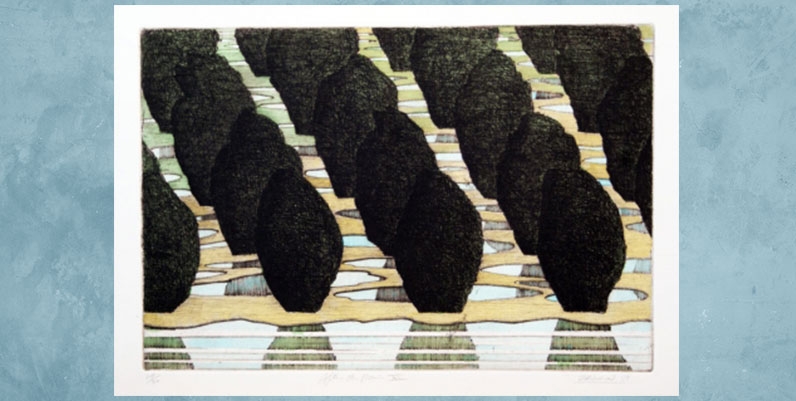 New Acquisitions: After the Rain VII and After the Rain XI by Gerald Zeldin 
GERALD ZELDIN (GERRY) 1943-2010
After spending most of his life in his studio and being commissioned large-scale site-specific public murals in varying media throughout North America, Zeldin became a coordinator in the world-renowned Animation Program at Sheridan college. He was a key professor of Life Drawing in the Animation program and was an enormously positive force in the international art world and in the global animation community.
His art included many genres such as figurative, collage, architectural still life (seeming anything but still!), landscape, dreamscape and etchings. The two etchings presently on view at the Dundas Public Library are from the series titled 'After the Rain' In the fall of 1980 there seemed to be an unusual amount of rainfall. Living beside the Dundas Conservation Area, he would walk the dog, Ali, daily along the trails.
Zeldin created this series noticing a change in the landscape.
The Conservation Area became a wetland. This series depicts what he 'saw' both realistically and in a dreamscape. There are nine etchings in the series.
The Dundas Branch offers artists from the community an opportunity to exhibit their work. 
Upcoming exhibits at Gallery Dundas: 
March, April, May - Kyle Jeffers
*Please be advised that sometimes, due to unforeseen circumstances, artist line-up and/or exhibits can change at the last minute. We apologize for the inconvenience.