MIDI Keyboard
Makerspace Home | Get Started | Request a Booking | Booking Calendar | Events | Guidelines
This keyboard-style MIDI controller can be used to play software instruments within GarageBand, making it musically versatile.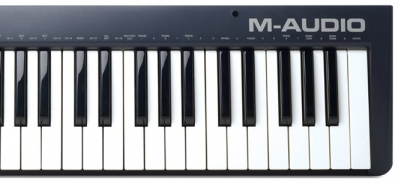 The M-Audio MIDI controller keyboard is connected to the computer via USB. This connection carries both data and power for the keyboard.

With GarageBand open, connecting the keyboard will open a prompt to configure the keyboard as a MIDI input. 

The keyboard has a number of controls. They include the playing keys, the octave buttons, the volume slider, the pitch bend wheel, and the modulation wheel.

The octave buttons allow you to shift the keyboard up or down by up to three octaves. Press both button simultaneously to return to the 0 position.
The volume slider adjusts the volume of the notes triggered by the keyboard.
The pitch bend wheel is used to bend notes while playing. The standard setting is two semitones up or down.
The modulation wheel will have different effects depending on what type of software instrument is being played. Typically it controls an effect such as vibrato or tremolo.
Help
Search Lynda.com for the following courses:
Garageband Essential Training  
Chapter 3: Recording a Software Instrument track - 

This chapter introduces users to software instruments in Garageband, which are the whole purpose of the M-Audio midi controller keyboard.  This includes how to set them up for recording and how to change the software instrument you're using. 
Book Time