Gallery4 on the 1st floor: May 2018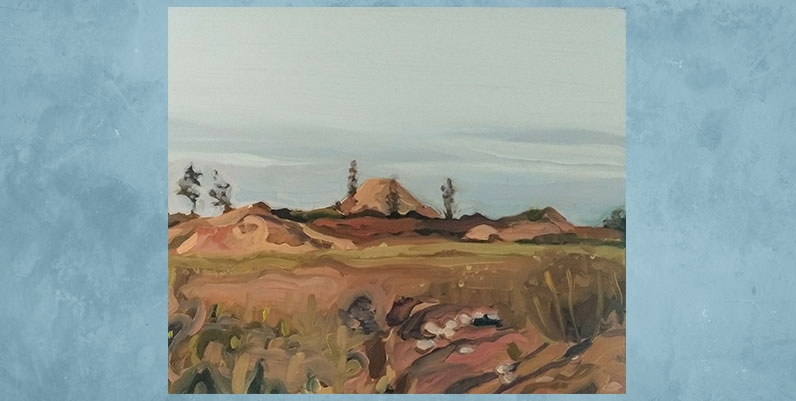 Visitation by Melissa Neil 
​Visitation is comprised of 10 intimate sized oil paintings on mylar. Part of a continuing body of work that draws on the landscape of the Smoky Lake region (Alberta) the work depicts subdued crops, expansive skies, rocky terrain, cloud convergences, dark forms and the chromagenically impossible.  Combining reality, potential and fantasy the artist presents a cumulative interpretation of place.
Melissa Neil is a graduate of the Ontario College of Art and Design (2002). Her work has been included in exhibitions at the  Assembly Gallery, Hamilton, 2017;  the Toronto Outdoor Art Exhibition, Toronto, 2016; Orillia Museum of Art & History, Orillia, 2015; Studio Huddle, Toronto, 2014 and at Fine & Dandy window gallery, Toronto, 2014. Melissa is a recipient of the City of Hamilton, City Enrichment Fund Emerging Artist Project Grant (2016). Her work is held in private collections in Ontario. 
Central Library has proudly made gallery space available to downtown customers since 1980. Gallery4 is located on the 1st floor of the Central Library. It has hosted a variety of artists using every medium, from all ranges of paint techniques, photography and 3D installations.
Gallery4 Annex is located on Circuit 4.0 (4th floor Central Library) and provides space for community organizations and individuals to share their works.
Upcoming exhibits at Gallery4
July - Margaret Flood
August - Denise Higginson 
September - Larry Strung
October - Yonak Laveri Yisraeli
November - Latvia - Rich in Art and Culture
December - City of Hamilton Arts Awards
*Please be advised that sometimes, due to unforeseen circumstances, artist line-up and/or exhibits can change at the last minute. We apologize for the inconvenience.