Gallery4 on the 1st floor: February 2018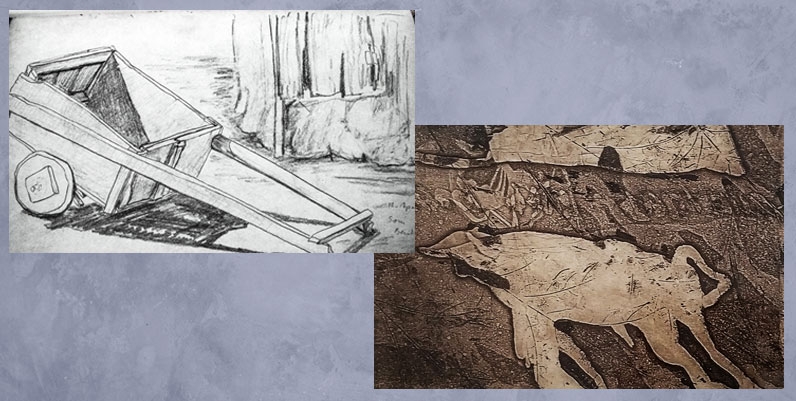 The Nicaragua Sketchbooks by Ingrid Mayrhofer and Dámarys Sepúlveda
This "studio visit" exhibition narrates the experiences, impressions and memories of two artists who met as young art teachers in Managua, Nic., in the mid-eighties. Working for the Sandinista Ministry of Culture, they taught at the art college in the capital and travelled to remote parts of the country to engage community members in art activism. The works on display comprise sketches, prints, paintings, old and new, as well as re-assembled and transitional pieces, which became part of their studios over the years.
Sepúlveda, now based in Vancouver, reflects on how her work changed in the process of becoming settled, "I detached myself from the painful memories, and visualize only the beauty that still exists in my motherland." Mayrhofer did not return to Nicaragua until 3 years ago when the artists once again travelled together. While sketches and prints from the eighties reflect enthusiasm for the revolution, her re-purposed pieces respond to the lack of socio-economic justice in the country today. 
Ingrid Mayrhofer is a visual artist, curator and community arts practitioner. Her work comments on the human condition through personal imagery and collective experience. She participates in collaborative projects as a member of the Red Tree artists collective. Curatorial interests include new practices, collaborations and international exchanges. Born and raised in Austria, Ingrid received her arts education at York University and has exhibited in Canada, Nicaragua, Mexico, Serbia, Japan, Chile and Austria.
Dámarys Sepúlveda is a painter and printmaker based in Vancouver, BC. She studied Visual Arts at ENAP, the Nicaraguan Fine Arts Academy in Managua, graduating with a Visual Art Diploma. Damarys was artist-in-residence at L'arc Children Art Expression School, in Barcelona Spain, and at the printmaking studio at York University, Toronto Ontario. Her paintings and prints have been exhibited in Nicaragua, Barcelona, Toronto, Vancouver and Mexico. Damarys is a strong advocate of Art for Social Change and is a member of several arts organizations in BC. 
Central Library has proudly made gallery space available to downtown customers since 1980. Gallery4 is located on the 1st floor of the Central Library. It has hosted a variety of artists using every medium, from all ranges of paint techniques, photography and 3D installations.
Gallery4 Annex is located on Circuit 4.0 (4th floor Central Library) and provides space for community organizations and individuals to share their works.