Gallery Turner Park: May 2018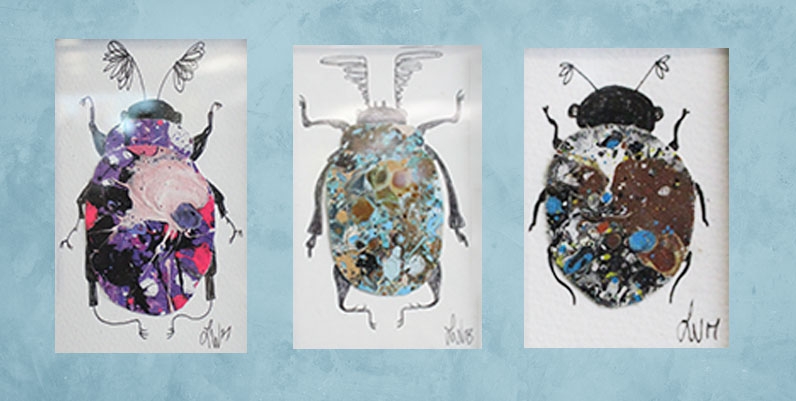 Infestation: The Entomology Series by Lacie Williamson 
"Beetles with a bit of Jackson Pollock colour, which make a fun and decorative piece of art..." - Robert Bateman about The Entomology Series 
In Egyptian culture the beetle was a sacred symbol of the spirit, carrying messages that bring our attention to renewal, spiritual maturity and the powerful influences of the invisible side of life. Infestation is a non-violent preservation of the natural world inspired by taxidermy, putting creepy crawlies in the spotlight. Each beetle's thorax and abdomen are uniquely it's own, having been cut from a large splattered canvas. The beetle bodies are mounted on acid-free paper and fitted to a frame that compliment's its colours before the addition of the head, thorax and legs in ink. Sharing the collection of bugs is a celebration of life, rebirth and proliferation. 
Lacie Williamson is a self-taught visual artist from Dunnville, Ontario where she owns and operates LVW Creative Barracks. The Barracks is an art studio and gallery where she offers creative workshops and classes to all ages. Growing up surrounded by farmland on the shores of Lake Erie, Williamson pulls her inspiration from nature, travelling and literature. Williamson works in a variety of media including photography, acrylic, watercolour, pen and ink, and spray paint.
Turner Park Branch offers artists from the community an opportunity to exhibit small intimate monthly shows in a dynamic public setting.
Upcoming Exhibits for Gallery Turner Park
July - Alice Bespolko 
August - Marybeth Leis Druery
September - Holly Ginsler
October - Ryan James Terry
November - Anita Thomas 
December - Rob Crosby 
*Please be advised that sometimes due to unforeseen circumstances, artist line-up and/or exhibits can change at the last minute. We apologize for the inconvenience.