Gallery Stoney Creek: September/October 2017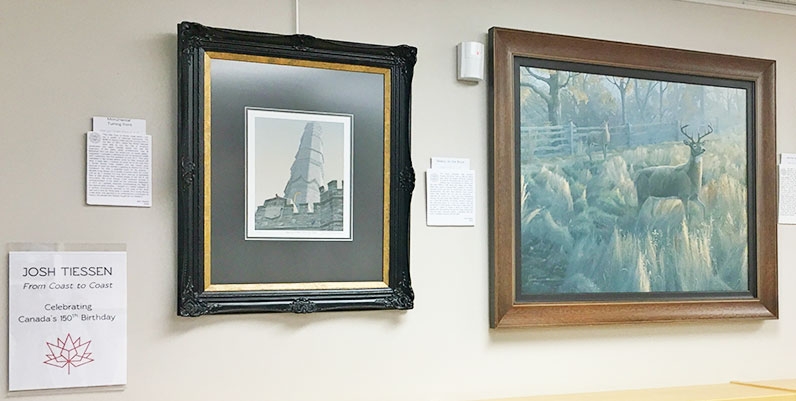 Josh Tiessen: From Coast to Coast Celebrating Canada's 150th Birthday
Paintings depicting Canadian landscapes and architecture from the past decade since Tiessen started publicly exhibiting his work at age eleven. The artist's first art monograph (hardcover coffee table book), which was recently published, will also be available in the library and on display.
​Josh Tiessen is a young international award-winning artist from Stoney Creek.  Considered one of the world's top ten prodigy artists (Huffington Post) and the only known male art prodigy in North America (Dr. J. Ruthsatz, international child prodigy expert).
Mentored by masters such as acclaimed wildlife artist Robert Bateman, Tiessen has exhibited his work for the past decade in art festivals and gallery exhibitions including National Gallery of Canada, and also exhibits internationally. He has sold hundreds of original paintings and limited edition giclee prints to private and corporate Canadian and international collectors.
Youngest member of International Guild of Realism (IGOR) ranked among the world's foremost realist artists, Artists for Conservation (AFC) and Society of Animal Artists (SAA), elite groups of the top nature and wildlife artists worldwide.
Featured often in magazine and newspaper articles and on TV, a sought after speaker and teacher, makes invited art donations to dozens of charitable organizations, established Josh Tiessen Studio Gallery and Arts for a Change Foundation. Garnered many awards and honours including Queen Elizabeth II Diamond Jubilee Medal, and Canada's Top 20 Under 20, for his artistic accomplishment and philanthropic work.
In spite of early success, Tiessen humbly acknowledges that his artistic talent is a gift from God. His style is contemporary realism, he delights in showing the beauty and diversity of creation, and the image of God in human creativity
The Stoney Creek Branch offers artists from the community an opportunity to exhibit monthly shows in two areas of the library. Both areas are within a few feet of walking through the doors.