Gallery Barton: July 2018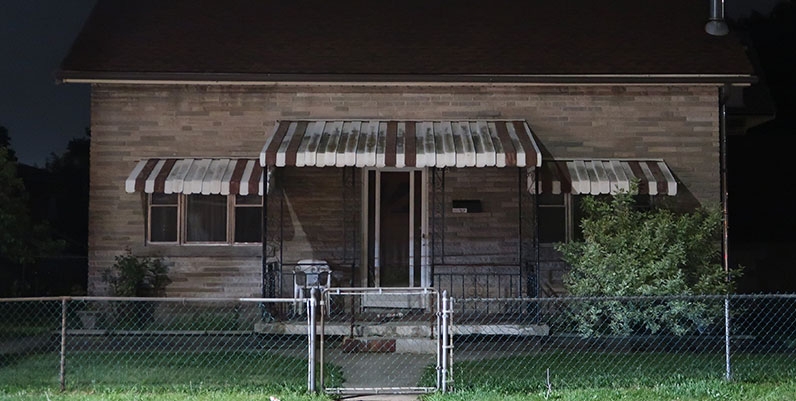 Hamilton By NIght by Titi Postma 
At night the city becomes alive, the buildings reveal themselves and show off their features.   Night time Hamilton photography is a favourite subject for me and Hamilton lends itself beautifully to it. Everything that goes unnoticed in the daytime, quietly demands attention at night.   For the night, every house is the same, socio-economic differences fall away.  Night is the great equalizer between different parts of the city, socio-economic differences fall by the wayside.
For me, there is poetry to the city at night, the silence, the disappearance of people, when everyday pressures fall away.  I have been fascinated with houses at night since my student days when I left my parental home in search of a place of my own. As an immigrant to Canada feelings of displacement is always there, it is difficult to put down roots.
Titi Postma was born and raised in The Netherlands.  She came to Canada as an adult, and it was this country that she took an interest in photography.  She learned the practice through continual reading and gallery going, and in 2012 was inspired to do a photo-blog with the initial goal of posting one photo a day.  This project has evolved into an untiring daily practice, one wherein she rarely, if ever walks or bikes anywhere without her camera.
Postma has used more sophisticated cameras but prefers the smaller point and shoot Canon G7X.  She inevitably chose Facebook as the means to share her work, allowing her images to unfold as a steady stream of curious details, subtle absurdities, and strange juxtapositions.
Barton Branch offers artists from the community an opportunity to exhibit small intimate monthly shows in a dynamic public setting.
Upcoming Exhibits for Gallery Barton 
August - Gary Barwin
September - Frank Myers
October - Monique Campbell 
November - Bianca Barich
December - Margaret Flood
*Please be advised that sometimes, due to unforeseen circumstances, artist line-up and/or exhibits can change at the last minute. We apologize for the inconvenience.